What can be customised on your scarves?
As standard you can personalise the following details on the range of custom design scarves we sell:
colours (up to 4, 8 or unlimited depending on the scarf)
add club emblem or company logo
add club or company name
add custom text
I.e. these are the standard scarf customisation options, all included in the basic wholesale price we quote. Our free design service will create a detailed pdf design of the scarves based on your input before we start production.
Resellers who want to sell our scarves in their fan or club shops may however want to add some finishing touches to incorporate their branding or easier display the product.
Here are the most popular finishing touches added to a scarf, each of which can be customised to your requirements. For more detail just click on the images to enlarge.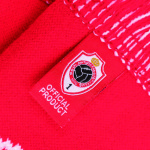 A) Custom Labels
We can add printed or woven labels to the scarves with your logo or instructions. The example in the picture shows a custom washing instruction label with the club crest on one side and instructions on the other. We can even add individual personalised labels to each individual scarf.

B) Hangtag
To further promote your club or cause you can add a custom hangtag to each scarf as well. The hangtag can be fully customised with your logo and text.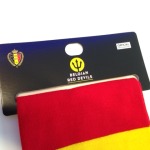 C) Header Card
Especially if you want to display your scarves in a rack in your club shop you may want to consider added header cards to the scarves. Again each header card is fully customisable and can be printed as per your requirements.

D) Individual Packaging
Some of our customers prefer that each scarf is packaged in it's own sealed see-through plastic packaging. Again this service can be easily provided by us. Or alternatively, just like any of our other products, the scarves can be individually packaged in a gift boxes (example here of Simon Mignolet gift box).

E) Official EAN Codes
Again, if you want to sell these products on in your club shop we can add fully officially registered EAN codes to the scarves. These can be scanned and are internationally recognisable and valid.
You find our full list of finishing touches here. Please note that these additional customisation options are charged extra. The easiest is for you to contact us with your requirements and we will get back to you with a free no obligation quote.